---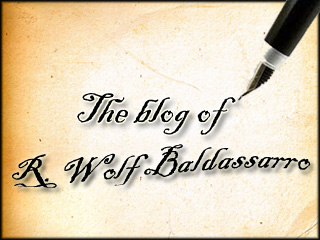 Musings from
a Candlelit Chamber-
Wolf's official blog filled with updates, news, rants, and goofy posts.
---

Banned Books Awareness and Reading for Knowledge is a global cause for literacy that is dedicated to preserving the right to free thought and information.
---
Aladdin 3477 -
R. Wolf Baldassarro has been added to the cast of a live-action sci-fi movie directed by Star Wars artist Matt Busch and based on the classic tale Aladdin and His Wonderful Lamp. In this unique adventure, set 1,500 years in the future, Wolf will play the role of the Klepto King, the leader of the Kleptorunners.
---

Click for a sampler page of poetry from Wolf's library.
Sustaining Member of the